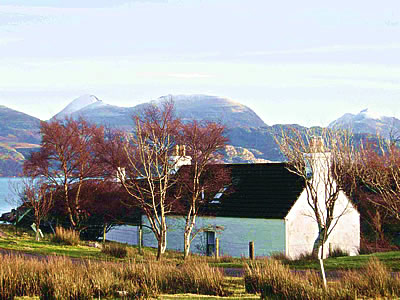 The Old Post Office is a self-catering holiday cottage with spectacular views across Loch Torridon to Beinn Alligin and Liathach.
The cottage is situated in the remote crofting village of Arrina (Arinacrinachd on some maps) on the north coast of Applecross peninsular, with its own pebble beach. Recently refurbished, but retaining its original character, the cottage has two double bedrooms as well as a small one under the eaves for a child.
The area is of exceptional natural beauty, perfect for outdoor activities, wonderful walks, loch fishing and bird-watching, or just for lazing, reading, photography or painting.